Branded Short URLs in LinkedIn Posts: The Whys and Hows
Do you regularly post on LinkedIn? If yes, then we bet quite some of your posts contain URLs - to your most recent blog post, to your company's next event or to that irresistible special offer you can't wait to share with your connections. Now, what do these URLs look like? Do they match your branding and do they leave enough space in the visible part of the post for the content that really matters? If the answer is no, then you should probably look at branded short links and the benefits they offer.

---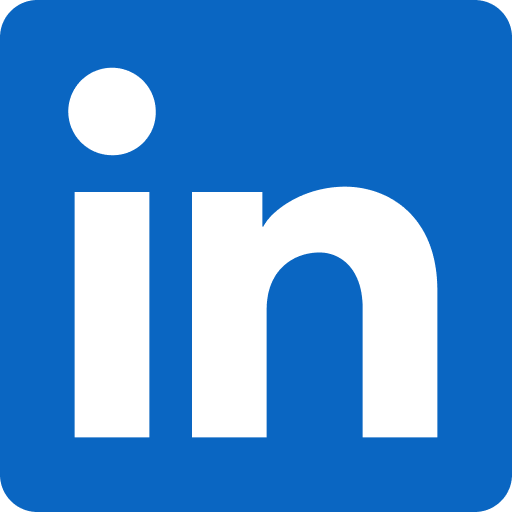 The Native LinkedIn Link Shortener
First things first: LinkedIn actually offers their own URL shortener that automatically shrinks some of the links you post there. If you're mentioning a LinkedIn page in your post, the long URL will be automatically processed by the native LinkedIn link shortener, with the resulting short URL looking something like this: lnkd.in/gGp5ZtSf
If it's a link to a third-party website that you want to share, then it will be converted into an image+text snippet at the bottom of your post: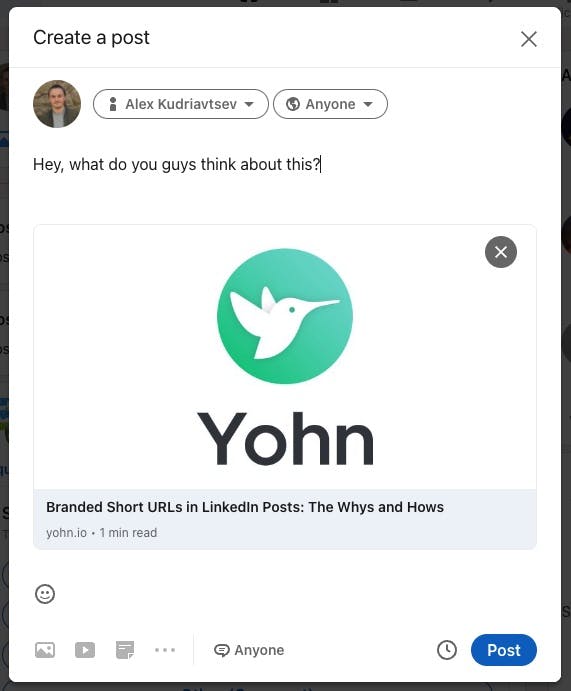 Pretty neat! Unfortunately, just like any solution, it doesn't quite work for everyone.
Branded Link Shortener for LinkedIn
What if you need to share a link to a third-party website but you actually need this link in the body of the post? Say, you want your post to go with a certain image, so the standard image+text snippet shown above is not an option. Sure, you could use a generic short URL like xyz.ly/abc751 - but wouldn't, say, jsmith.blog/smm look so much cooler? It definitely would!
Besides, all the big players are already doing that. Microsoft (msft.it), Amazon (amzn.to), Mercedes-Benz (mb4.me), you name it!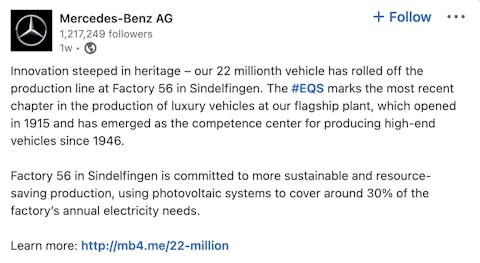 Benefits of Using Branded Short Links on LinkedIn
There's so much more to short URLs than just the cool factor. Branded short URLs can offer several benefits when used in LinkedIn posts. Here are just a few of the potential advantages:
Increased brand recognition: Branded short URLs can help to reinforce your brand by incorporating your company or product name into the URL. This can make it easier for people to remember and recognize your brand, even if they don't click on the link immediately.
Improved click-through rates: Branded LinkedIn short links are more appealing to users and encourage them to click through to your content because they convey a sense of trust and authority. There are many studies comparing the CTRs of generic and custom short links and most of them claim that the latter are clicked 30-40% more often.
Easier tracking: Branded short URLs at Yohn.io come with analytics that allow you to track clicks and monitor the success of your posts. This can help you to refine your LinkedIn content strategy and optimize your marketing efforts.
Enhanced brand credibility: Don't know about you but we've seen enough spam and phishing messages stuffed with generic short links - no surprise we're usually reluctant to click one when we see it in a social media post. By using branded short URLs in your LinkedIn posts, you appear more trustworthy and communicate a sense of professionalism and attention to detail. This can help to build trust with your audience and demonstrate that you are intentional and strategic about your social media presence, which can further enhance your brand's credibility.
Increased security: Branded short URLs can help to protect your users from phishing attacks and other security risks. By using a branded short URL, you can ensure that users are directed to a legitimate page and avoid the risk of clicking on a malicious link.
And hey, don't think that branded short links are only available to the big guys like Microsoft and Amazon. With Yohn.io you can get your own LinkedIn URL shortener for as low as €29 a month! Want to see Yohn.io in acton? Go ahead and start the free 7-day trial!
Recent articles: